Mental Health and The Blurt Foundation's Buddy Box
Posted on

It's been a tough 10 months for me. I've been physically unwell with nausea, vomiting and tummy pain mixed with headaches, on-and-off since June, and it's really taken its toll. Getting so run down, for this unknown reason, kicks off my lupus and my mental health took a nose dive. I was spending chunks of the day in bed and this was happening many days in the week at the rough points.
Then we finally found out I have stripped the lining in my stomach and developed ulcers in my digestive system, probably caused by my steroids and things I take for lupus. Not good, but great to know what had kept flaring up and making me feel so rubbish.
So, now I am getting physically much better (with yet another medication) and trying to lower my lupus medication so that it helps me but doesn't cause all this to happen again. I am still finding it hard, but I am certainly feeling a lot more positive. I was wondering a little while ago what I can do to help myself more, as self-compassion is something I am very bad at. I'm a real do-er, so I get frustrated when I get knocked for six on a poor health day and I'm not very good at stopping. The fact I had so many bouts, meant my mental health and ability to keep positive and keep going, went out the window. With more energy now, I can work on that even more, so I decided to subscribe to two delivery boxes with my mental health in mind. Like everyone, I am not keen on just getting bills, so I thought I'd try something nicer arriving on my doormat.
The first to arrive was my Buddy Box, from the Blurt Foundation.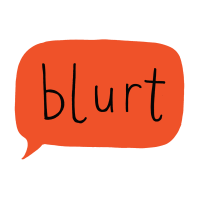 At £21.50 it is pricey, but that's because there is so much in it. You can always go for the Buddy Box lite at £12 if it's too much for you to afford. What I did like, is that a one-off box is the same price as the monthly subscription, so you can feel happy about trying it out or treat yourself every 2 months etc. if that's better for you.
I tell you what though, it's an absolutely lovely box. As the foundation say themselves,
The contents of the BuddyBox vary from month to month and remain a closely guarded secret. (The surprise is very much part of the experience.) All the items included in the box are intended to make you feel good: helping you de-stress, find calm, feel pampered, relax, get creative, or simply have fun.
It was exactly what I wanted and it is beautifully done. It's a social enterprise, so profits are channelled back into helping those with depression, and the foundation is also there for you should you need them. So, with at least 5 top-quality items in the box, and knowing that you are doing good with the profit money, it's a real boost.
I got the box that we are all "Winging It", so it has a fab bird theme. I received some a lovely Gull Notebook, a winging it card, a sew your own bird pencil topper, a wooden badge saying "Kindness Matters", some lovely tea bags and some very expensive rose facial oil for my skin.
It's all just so lovely and my cat thought so too. If you fancy receiving a box of surprise gifts, to remind yourself to sit down and take some time out/that you are not alone/to get you trying something new, give them a go. You can also visit their website for some fantastic resources if you are suffering with depression.
https://www.blurtitout.org/resources/