My little holiday to Edinburgh
Posted on
As you may have noticed, I took a week off this summer to head up to Edinburgh for the Fringe Festival. I had no idea what to expect but I loved it so much that I just have to tell you about it.
| | |
| --- | --- |
| | Darren, a street artist, captured us brilliantly! |
I am not good at taking time off as I run my little shop on my own, so when I do get away it makes it extra special. I asked my daughter where she would like to go and "SCOTLAND" fired out of her mouth faster than even requests to stay up late. With her explanation that she wanted to learn to speak as if she was from Scooootland, I just knew that we had to go. We booked a few nights in the city, sorted out our flights and eagerly awaited her summer holiday from school. We were not disappointed.
The city was amass with people giving out flyers to all sorts of shows and I wish I could have visited them all but as I had my 7-year-old with me, we stuck to the instant gratification of the street acts. We were treated to circus performers, world music, illusionists, magicians, singers, bagpipe players, artists, comedians and so much more. I could easily have stayed there so much longer as there is just so much to see and do.
The electric energy in the city was fantastic with professional performers from all around the word heading over to show us their skills. People crowded around, huddled in, gasped, cheered, clapped and sang. It's not often that you get that kind of feeling in a city and notice so many nationalities coming together to both perform and watch.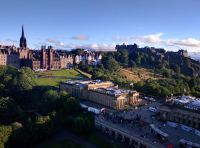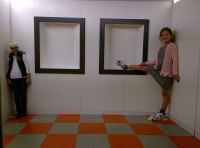 If you ever get the chance to go, please do. Edinburgh is my favourite city at the best of times (besides my lovely Brighton of course!), but add the festival sights and sounds and you are in for a real treat.