New Amazon Store
Posted on
To follow on from my last two posts, I have received my pen tablet! It is amazing but has a little fault with an accessory, so I'm getting it replaced. I think it is going to take me a little while to get used to it, but I hope to be able to bring you much better product sketches in the future.
In the meantime, I have been working on a new Amazon store to give a much better customer experience there. I can be honest here as it is my little blog, that I do have mixed feelings about being a seller on Amazon. They do have their benefits for some of my customers, as their logistics services are second-to-none with the Prime delivery options. From a customer comprehension point of view though, they are trickier, as I am very limited to what information I can give to the customer. They don't give me many characters or images to explain the product, so with a product like mine, that can make it very tricky.
I am hoping that my new store will help with that. As I am now a registered brand on Amazon, I am able to custom build a store, and within that I can custom make pages of information which will really help. I hope!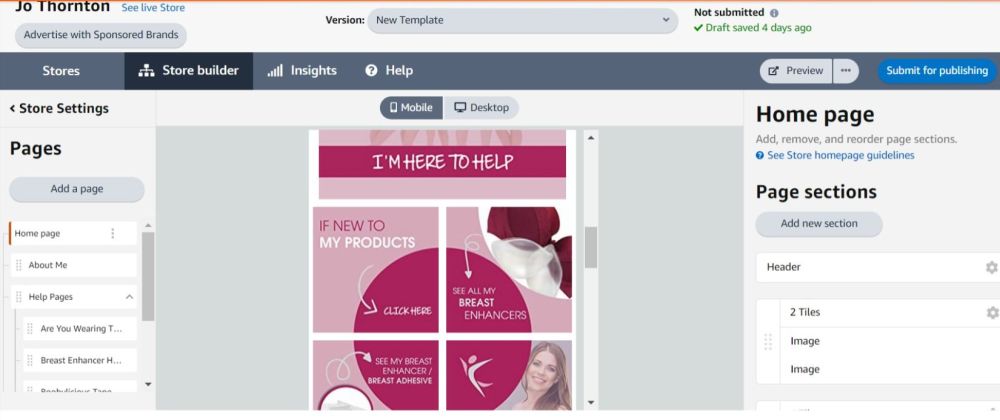 It's a slow process, but I am pleased about how it is getting on and hope it will be up and running soon.
If you are ever in doubt if I would prefer for you to buy here on my Amazon store, the answer is absolutely here! The Amazon fees are the biggest I face, and it certainly does make it difficult for us little businesses to be on there, but as many customers head straight to Amazon it's essential for me to be there and I am very grateful for the number of people who find me through my Amazon presence. On my website however, I am able to offer options for packaging such as boxes and organza bags, add-ons such as adhesive tapes, videos and guides to help you, and you can email me whenever you like. I love serving you here, as it's our own little space to connect and interact.
I better get back to doing this store for now though :)