Books Books Glorious Books
Posted on
I'm not a big reader and oh how I really wish I was. It's something I've tried to change and I'm never giving up hope!
There are some series of books I can read so easily and be so surprised by. Like James Herriot. I wasn't expecting much when I picked one of his up at my Grandmother's house, but there was just something about it. I used to watch the show on the TV, but the books were different. Set in the 1930s, they were real stories with atmosphere and characters from his journey as a new vet, rattling around in the cars of the time in the Yorkshire Dales. I laughed and cried and whizzed through every chapter in the entire series in no time. So I know I can read when I find the right books, it's just that they don't come along too often.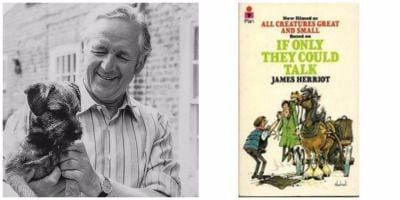 I've read the odd book on and off through my 36 years on this planet, but it did get to the stage when I had 9 part read books on the go. Yes nine, that's not so good is it. The last couple of years have had an extra challenge to my reading. Lupus has entered my life and it's most challenging symptom is extreme fatigue. I get so tired, even when I've only been up an hour in the morning on some days, so sitting down with a book can mean sleep time in around 30 seconds after starting. Needless to say falling asleep is a real challenge to reading and means I don't get too far through books these days!
I realised something I love though that could help though. I always love wearing headphones and I love music, so I thought that I'd give audiobooks a go and woah ...they are great! I can listen to them when I am driving, when I am cooking, doing simple tasks on the PC and other times in life when I would have popped some music on. I can go through books as I've always wanted to, just in a different way and a way that suits my needs better. I can completely focus on the words at times when I am not fighting to keep my eyes open. I am fighting a losing battle with books in printed form all the while I have this extra battle with fatigue going on but I now have another avenue in to reading and that makes me very happy.
So, the point of all this is that I've been reading, well listening to, a great book.

It's called Mastery and it's by Robert Greene.
I seem to have gravitated towards biographies and non-fiction since finding my way to audiobooks, and I saw some great reviews that lead me to this one in particular. It's a beast, as in really long, but I seem to have got that lovely whizzing through feeling like I did with my James Herriots. The book is so interesting as it looks at the reasons that some people master the field that they are in. Rather than just being a huge book of theory, Robert talks us through the lives of Leonardo Da Vinci, Albert Einstein, Mozart and some amazing contemporary masters. It's a bit black and white at points, but I think it needs to be in order to really drive home his ideas and keep us on track with the theory and fibre of his argument at the time. He shows us that we don't need to be born with a gift or be some special human being, we just need to find what makes us unique. We need to keep a wide view of our calling and let life guide us through, even noticing the things we feel are our flaws, and help them guide us. It takes practice to become a master of anything, which is something that we are not so good at during this digital and age of instant gratification. We also need a mentor who can help guide us and impart knowledge to us during our apprenticeship phase, before we break away and find our own path as we follow the last part of our journey to mastery. It's a fascinating book and I've loved it so much it's made me write a little blog post about it. I've even got it as a printed book now too so I can highlight bits and jot my thoughts down in. Who knows, one day I might even be able to kick this fatigue and sit down with a cuppa and read it as well :)